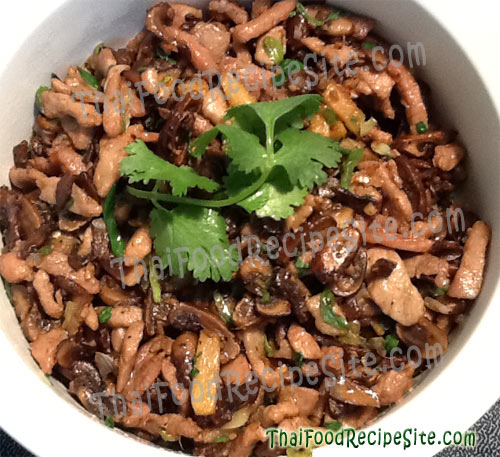 Fresh young ginger is the key to this recipe. Beef, chicken or shrimp can also be used instead of pork.
Ingredients:
serves 4
8 oz. lean pork, thinly sliced
2 tbsp. vegetable oil
4 garlic cloves, chopped
¼ cup slivered fresh gingerroot
1½ cups (about 4 oz/125 g) fresh oyster or shiitake mushrooms, thinly sliced
2 tsp. sliced fresh red chilies (or 1 tsp. red chili flakes)
2 tbsp. fish sauce
1 tbsp. oyster sauce
1 tsp. granulated sugar
4 green onions, sliced
fresh cilantro, for garnish
(
Cooking Tables
)
Method
Heat oil in a wok or a large skillet over medium-high heat. Stir-fry pork and garlic for 2 minutes. Add ginger and cook for another minute.
Stir in mushrooms and stir-fry for 1-2 minutes, or until just softened.
Add red chilies, fish sauce, oyster sauce, sugar and green onions. Cook for 2 minutes, tossing to combine.
Serve garnished with cilantro.