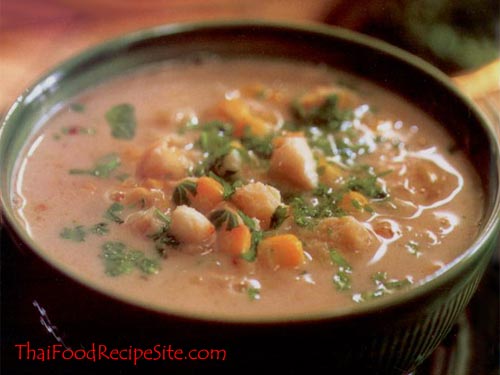 Ingredients:
serve 4
2 tbsp. vegetable or peanut oil
4 garlic cloves, chopped finely
5 shallots, chopped finely
2 lemongrass stalks, chopped finely
1-inch / 2.5-cm piece fresh ginger, chopped finely
1-3/4 pints / 1 liter / 4 cups chicken stock
14 oz / 400 g / 1-3/4 cups canned coconut milk
8 oz / 225 g / scant 1-1/2 cups frozen corn kernels
12 oz / 350 g canned crabmeat, drained and shredded
2 tbsp. fish sauce
juice of 1 lime
1 tsp. jaggery or soft light brown sugar
bunch of fresh cilantro, chopped, to garnish
(
Cooking Charts
)
Procedures:
Heat the oil in a large skillet and saute the garlic, shallots, lemon grass, and ginger over low heat, stirring occasionally, for 2-3 minutes, until softened. Add the stock and coconut milk and bring to a boil. Add the corn, reduce the heat, and let simmer gently for 3-4 minutes.
Add the crabmeat, fish sauce, lime juice, and sugar, and let simmer gently for 1 minute. Ladle into warmed bowls, garnish with the chopped cilantro, and serve immediately.