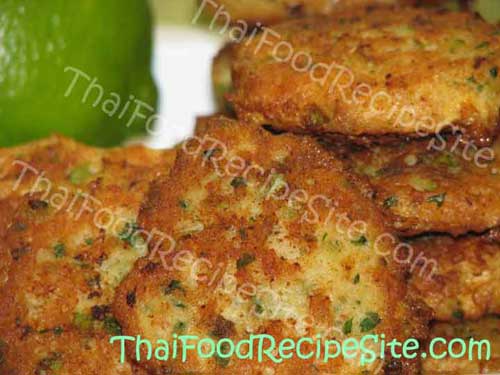 Tod man pla is a spicy Thai fish cake that is so yummy!!! We can serve them with rice or eat them by itself with sauce for snacks. I've also tried substituting the fish with other meats like chicken or pork and still taste good.
This Thai fish cake recipe is a great Thai recipe. My family really loves it.
Ingredients:
450 g/1 lb skinless, boneless cod fillet, cut into chunks
1 beaten egg
1 tbsp Thai red curry paste
1 tsp brown sugar
1 tsp salt
1 tbsp cornflour
1 tbsp chopped fresh coriander
75 g/ 2 3/4 oz finely chopped green beans
4 tbsp oil for frying
(
Cooking Chart
)
Cooking Procedures :
Put the cod into in a food processor and chop roughly.
Add the curry paste, egg, sugar, slat and cornflour in the food processor and blend well.
Add and stir in the green beans and coriander.
Transfer to a bown, cover with clingwrap and chill in the refrigerator for 45 minutes.
Roll the mixture into 15 to 20 balls, then flatten each ball into a cake like shape.
Heat the oil in a frying pan (non-stick if possible) over a medium heat and cook the cakes into batches for about 3 to 5 minutes on each side, or until golden brown and cooked through.
Serve with sslad or stir-fried green vegetables such as beans or broccoli or you can serve it with rice.
Have you tried this Other Thai Cuisine?