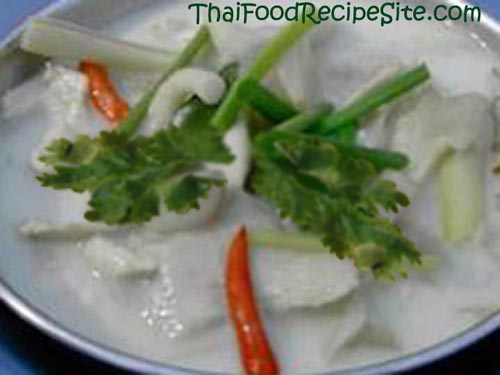 Thai soups usually stay on the table throughout the meal. They can serve as a sauce for rice or dishes that have no sauce of their own. Some soups are very light and can be served as a first course, whereas others are more substantial and may be served as a light lunch or supper dish.
Tom kha gai (Chicken and Coconut Milk Soup) is one of the thai soup that I cooked recently and it was really delicious. I made it sure that it was spicy, and the result that I actually got was a tasty spicy soup.
Ingredients:
400 ml/14 fl oz canned coconut milk
500 ml/18 fl oz chicken stock
6 thin slices fresh galangal (Thai ginger) or Chinese ginger, sliced and bruised
2 stalks fresh lemon-grass, bruised
4 fresh kaffir lime leaves
225 g/8oz chicken breast fillets, cut into strips
2 red chillies, deseeded and sliced finely
4 spring onions, sliced finely
4 tbsp fish sauce
2 tbsp lime juice
2 tbsp chopped fresh coriander



( Measurements in Cooking )


Method
In a large pan, combine chicken stock, coconut milk, lemongrass, kaffir lime leaves and galangal.
Bring to a boil over high heat and allow the soup to boil for 1 or 2 minutes.
Add chicken, then reduce heat and simmer, uncovered, for 10 minutes, or until the chicken is cooked.
Add the chilles and spring onions and simmer for 3 more minutes.
Stir in the fish sauce, lime juice and coriander. You should taste a slight touch of lemon followed by a more salt and creaminess taste from the coconut milk.
Serve immediately in warmed bowls as an appetizer or with rice.
Note: You can substitute chicken with shrimp or fish as desired.
Ideas:  Coconuts are one of the nutritious of all the fruits and visit www.ecoconutnutrition.com">www.ecoconutnutrition.com to know more about coconuts.