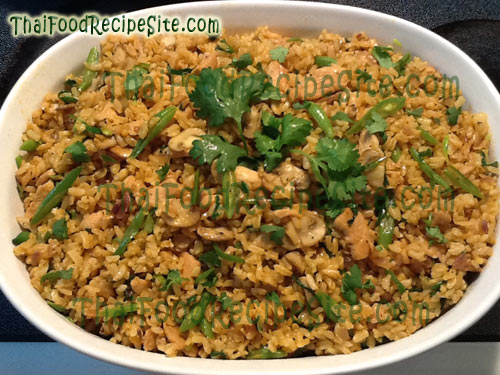 Most fried rice dishes are gently seasoned and this version has added curry and pepper. This makes a good accompaniment for grilled fish or meat and you can also add eggs and/or chicken for a more substantial dish just what I did in this version.
Ingredients:
serves 4
6 oz. (175 g) boneless, skinless chicken breasts, thinly sliced
2 tbsp. vegetable oil
1 tbsp. slivered fresh gingerroot
1 onion, chopped
4 garlic cloves, chopped
1½ cups (about 4 oz/125 g) sliced fresh mushrooms
2 tsp. red curry paste
¼ tsp. ground turmeric
1 tsp. granulated sugar
¼ tsp. black pepper
2 tbsp. fish sauce
½ cup finely sliced green beans
4 cups cold cooked rice
2 tbsp. chopped fresh cilantro leaves, for garnishing
3 chopped green onions, for garnishing
(
Cooking Tables
)
Procedures:
Heat 1 tbsp. oil in a wok or a large skillet over medium-high heat. Stir-fry chicken until lightly browned. Set aside.
In the same skillet, heat the remaining oil. Add ginger, onion, garlic and stir-fry for 1-2 minutes until soft and fragrant. Stir in mushrooms and cook for another 2 minutes.
Add curry paste, turmeric, sugar, black pepper and fish sauce; stir to combine.
Add the green beans and stir-fry for 1 minute. Stir in rice and toss for 5-6 minutes until heated through. Add the cooked chicken and toss to combine.
Garnish with green onions and cilantro leaves.