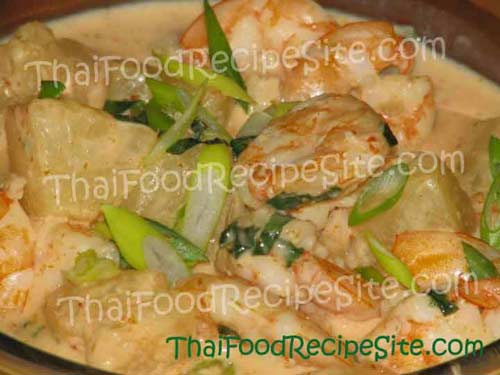 I remember this Thai recipe, Kaeng Khua Saparot (Thai Prawn and Pineapple Curry), is the first of Thai food recipe that I've cooked.
Before I start cooking this recipe, I asked my wife on how to do the cooking instructions and the preparation of these Thai ingredients. She was at my side during the preparation, guiding me throughout the process.
And you know what, it turns out very good and remind us during our anniversary date where we ate at a Thai restaurant with this dish in our menu.
It was a success!
Ingredients:
250 ml/8 fl oz coconut cream
1/2 fresh peeled and chopped pineapple
2 tbsp fish sauce
2 tbsp Thai red curry paste
2 tsp sugar
350 g/12 oz shelled and deveined raw tiger prawns (how to deveined prawns)
2 tbsp chopped fresh coriander
4 shredded spring onions to garnish
Serve with cooked rice.
(
Kitchen Measurements
)
Procedures:
Place the coconut cream, pineapple, curry paste, fish sauce and sugar in a pan.
Heat gently over a medium heat for 5 minutes or until boiling.
Add the prawns and coriander and simmer gently for 5 minutes, or until the prawn are cooked.
Sprinkle with the shredded spring onions.
Serve with cooked rice.