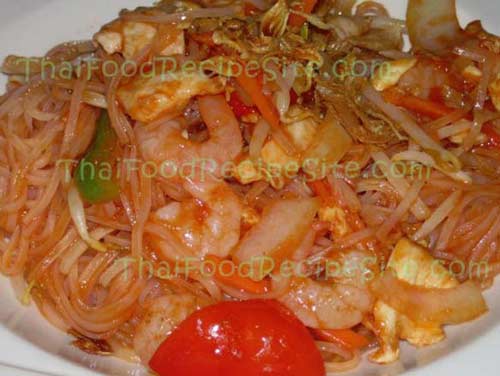 My friends asked me how to make pad thai because they like how I cook them and it taste good. Then, I usually refer them to this thai recipe website which I created to post all different thai recipes that I've cooked and planning to cook in the future.
Anyways, I'll be sharing this easy Pad Thai Recipe for you to follow but before I start, It's better to know the history of this thai dish.
Pad Thai or Phad Thai (Thai Noodles) is one of the best-known dishes of Thailand. It is a meal on its own with many variations, but should always include noodles and peanuts. This is the one thai noodle recipe to master, and to love, over all the others. It's so addictive that it alone would keep Thailand cuisine alive.
Pad Thai dish is a meal of its own, but often served with other dishes. Sweet, sour and salty are balanced by the blandness of the noodles. This is one of the best Pad Thai recipe version that me and my family loves.
Some people call this chicken pad thai recipe or shrimp pad that recipe because there is a chicken and shrimp in the ingredients. Whatever they call this recipe, for me it's still a pad thai recipe.
An important note, do not oversoften the noodles, since they will soften further when cooked. Also, eggs are an important ingredient in the recipe for Pad Thai.

Ingredients:

8 oz/250g dried medium Thai rice noodles
3 tbsp/45ml lime juice or tamarind paste
3 tbsp/45ml chicken stock, ketchup or tomato sauce
4 oz/125g skinless, boneless chicken breast
4 oz fried tofu
6 tbsp chopped peanuts
2 tbsp fish sauce
2 tbsp palm or brown sugar
3 tbsp vegetable oil
1 tsp chopped garlic
4 oz/125g shrimp, shelled and deveined, cut in small pieces
2 eggs, beaten
2 cups bean sprouts
2 stems green onion, cut into 1-inch/2.5-cm pieces
1/2 tsp hot chili sauce
Strips of red pepper
1/4 cup chopped fresh cilantro leaves
1 lime, cut in wedges
(
Conversions For Cooking
)
Cooking Procedures :
To soften noodles, place in a large bowl. Cover with very hot water and let stand for 10 to 12 minutes, or until softened but still firm (pinch them to check). Rinse well with cold water and drain. Reserve.
In a small bowl, combine chicken stock, lime juice, fish sauce, sugar and chili sauce.
Slice the chicken into 1/4 inch strips. If you find it difficult to cut thinly through fresh meat, leave it in the freezer for 15-20 minutes to harden slightly and then slice. Reserve.
Slice the fried tofu into 3/4 inch cubes. Reserve.
Blend or process peanuts into chunky pieces. Reserve.
Heat a large skillet or a wok over medium-high heat and add 1 tbsp (25ml) oil. Add beaten eggs to hot pan and swirl to coat bottom of pan. Cook until it start to set, then stir to break into pieces. Remove from wok and reserve.
Add remaining oil to wok. When hot until it is just about to smoke, add garlic and stir for about 30 seconds. Add chicken and stir-fry for 1 minute. Add tofu and shrimp and stir-fry for 1 more minute, or until shrimp and chicken are just cooked. Stir in noodles and reserved sauce mixture and cook for 1 to 2 minutes, or until noodles are soft but not mushy.
Add 2/3 of bean sprouts, 2/3 of peanuts, cooked eggs and all green onion pieces and stir for 30 seconds and take off heat.
Turn noodles onto a serving platter. Sprinkle with remaining bean sprouts, some strips of red pepper and fresh cilantro leaves. Stick a couple of lime wedges on the side and serve immediately.
Try the other version of Phad Thai Recipe.
How about trying this Other Easy Thai Recipe: