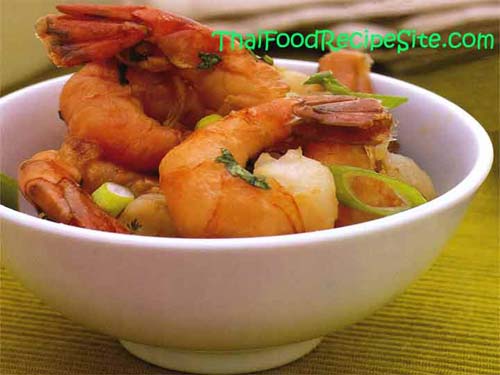 This Thai food recipe is a good appetizer especially with the flavor combination of shrimp and garlic. I suggest that you use a large shrimp or a jumbo shrimp if possible because they are juicier and tender to eat which will make this Thai dish an unforgettable meal.
Ingredients:
2 tbsp peanut or vegetable oil
2 finely chopped garlic cloves
1/2 finely chopped onion
2 roughly chopped scallions
pinch of salt
8 oz/225 g raw shelled and deveined jumbo shrimp
3 tbsp soy sauce
1 tbsp jaggery
1 tsp Thai fish sauce
handful of fresh chopped cilantro


( Cooking Chart )


Method
Heat the oil in a preheated wok.
Add the garlic, onion, and scallions.
Then stir-fry over medium-high heat for 30 seconds.
Add the remaining ingredients and half the cilantro.
Then stir-fry over high heat for 2-3 minutes, or unitl the shrimp have turned pink.
Remove from the heat, then stir in the remaining cilantro.
Serve immediately. This recipe Serves 2 individual.
Cooking Tip
Serve onto hot plates, as this will help keep the dish hotter for longer.
Cook the shrimp quickly, as they toughen if cooked for too long.