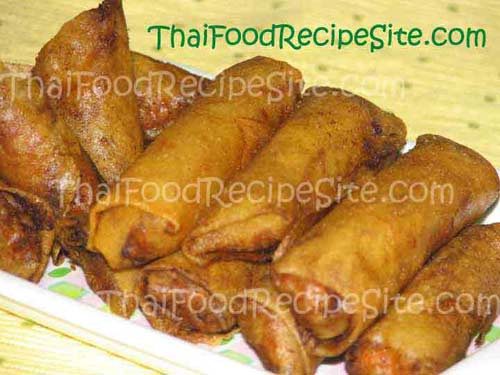 Although Chinese in origin, deep-fried spring rolls are popular dish on Thai menus. These crispy and golden look are difficult to resist.
Many pre-made spring rolls are easily found in many frozen section of supermarkets, but a homemade spring rolls are much better because you know its content and the quality of ingredients being place.
Among the Thai recipes that I made, this one was challenging to make because the spring roll wrapper always pop-out every time I place it in the pan until my wife told me her technique of sealing the spring wrapper with egg white.
Well, most of the time it works but still I haven't perfected it yet.
Ingredients:
1 tbsp vegetable oil
250 g/9 oz lean minced pork
1 deseeded and finely chopped red chilli
1 crushed garlic clove
115 g/4oz shelled and chopped cooked prawns
2 finely chopped spring onions
1 egg (eggwhite only)
2.54 cm/1 inch finely grated fresh root ginger
2 tbsp fresh chopped coriander
2 tsp fish sauce
30 spring roll wrappers
250 gms or more oil for deep frying
TO SERVE: Sweet Chilli Sauce


( Food Conversion Chart )


Procedures:
Heat the oil in a frying pan.
Add the pork, garlic and chillies and cook, stirring until the pork is browned.
Add the prawns, spring onions, ginger, coriander and fish sauce.
Cook, stirring, until heated through.
Remove from the heat and set aside to cool.
Prepare the spring roll wrappers as directed on the packaging.
Place a spoonful of the pork mixture down the middle of each spring roll sheet, leaving a space at the top and bottom and down the side.
Brush the edges with eggwhite.
Fold the top and bottom over and then fold in the sides to form a sealed roll.
Heat the oil for deep frying in a large pan.
Fry the rolls in batches for 2-3 minutes, or until golden brown.
Drain on paper towels. Transfer to a serving platter.
Serve with your sweet chilli sauce or your favorite dipping sauce.