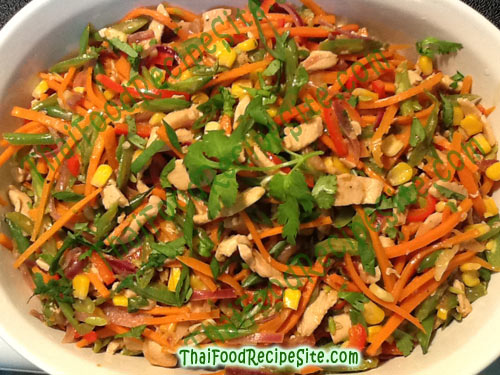 Ingredients::
makes 5-6 servings
2 tbsp. vegetable oil
3 cloves garlic, thinly sliced
1 tsp. chopped fresh red chilies
1 lb. boneless, skinless chicken thighs, cut in 1/4-inch / 5-mm strips
1 carrot, cut in matchsticks
1 cup sliced beans, cut in 1/2-inch / 1-cm lengths
1/2 red bell pepper, seeded and thinly sliced
1/2 cup corn kernels
1/3 cup coconut milk
2 tbsp. oyster sauce
2 tbsp. lime juice
1 tbsp. fish sauce


( Cooking Chart )

Procedures:
Heat a wok or large skillet over medium-high heat and add oil. Add garlic and chilies and stir-fry for 30 seconds. Add chicken and stir-fry for 2 minutes.
Increase heat to high. Add carrot, beans, red pepper and corn and stir-fry for 4 minutes, or until vegetables are just tender and chicken is cooked.
Add coconut milk, oyster sauce, lime juice and fish sauce. Toss to combine until heated through.